SITA organized a webinar on The Future of the Textile and Apparel Sector – an Indo-African Perspective in collaboration with the Confederation of Indian Textile Industry (CITI), India International Textile Machinery Exhibitions Society (India ITME Society), Kenya Association of Manufacturers (KAM) and Ethiopian Textile and Garment Manufacturers Association (ETGAMA).
Opening remarks highlighted the opportunities in Indo-African partnerships, and the importance of sustainability for a competitive sector.
Panel discussions uncovered 10 ingredients for a robust, integrated and sustainable textile and apparel sector underpinned by public-private cooperation, as we emerge from the global pandemic. These include: finance, good infrastructure, collaboration between sectors, strong institutions, market access, sustained government support, and sustainability.
On 26 June 2020, SITA organized a webinar on The Future of the Textile and Apparel Sector – an Indo-African Perspective.
The textile and apparel sector (T&A) has been hit hard by the Covid-19 pandemic. In his opening remarks, Mr Ashish Shah, Director, Division of Country Programmes, ITC, explained just how much: worldwide orders along the T&A value chain have decreased by about 42%[1] and companies expect a 32% reduction in their annual turnover.[2]
With the pandemic also set to leave a legacy of unpredictability for some time, Covid-19 has highlighted the importance of resilience.
In the words of Mr Shah, there is opportunity in adversity. In the case of East Africa, it is an opportunity to build a robust, integrated and sustainable sector. Mr. T. Rajkumar, Chairman, Confederation of Indian Textile Industry (CITI), explained how economic ties in textiles and apparel between India and Africa is a major force for good and can lead to "win-win" situations. Mr Ajul Shah , Chair, Local Textiles and Apparel Sector, Kenya Association of Manufacturers and CEO, Kenya Shirts Manufacturers Co Ltd chimed in with a similar message about South-South integration: he mapped out the role that of Indian firms in providing fabrics to the region in the future.
Meanwhile, in his opening remarks, Mr. S. Hari Shankar, Chairman, India International Textile Machinery Exhibitions Society (India ITME Society), introduced another overarching theme of the webinar, that absolute compliance with global environmental standards will be a pre-requisite in this post-Covid world.
A thriving sector stands to bring new jobs to the region, and to contribute enormously to socio-economic development. In the panel discussion that followed, public sector and industry experts from India and East Africa discussed the future of the sector and what it needs to do to get there.
The answer? Integrate, attract investment, and embrace sustainability.
The key? Public-private cooperation.
The webinar was organized in collaboration with the Confederation of Indian Textile Industry (CITI), India International Textile Machinery Exhibitions Society (India ITME Society), Kenya Association of Manufacturers (KAM) and Ethiopian Textile and Garment Manufacturers Association (ETGAMA).
Integrate
Mr Navdeep S. Sodhi, Partner, Gherzi Textil Organisation remarked that only around 20% of African-grown cotton stays on the continent to be processed. Meanwhile, more than 90% of the continent's textile demand is met by imports.
Integrating the value chain brings the value addition process back to the country of origin: this means more skilled jobs for East Africa. What's more, the link between each processing step becomes more streamlined, which leads to higher yields and efficiency. Lastly, integration makes for flexibility; integrated sectors can respond better to diversifications occurring in the global supply chain as a result of Covid-19. All this leads to a more competitive sector, both domestically and globally. At the same time, increased trade of higher value manufacturing goods within and between countries allows for diversification of exports and greater resilience to external shocks.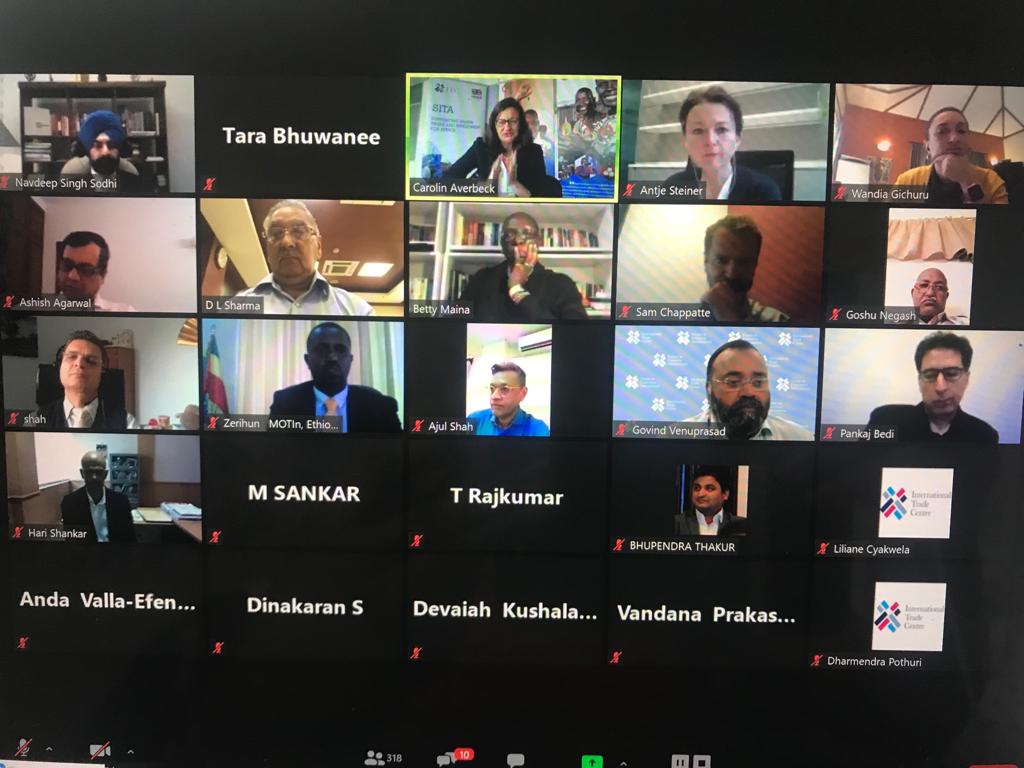 So what needs to be done for East Africa to emerge from the Covid-19 crisis with an integrated textile and apparel sector? Efforts should concentrate on Five focus areas:
The first challenge is (1) how to finance the sector: Hon. Betty Maina, Cabinet Secretary, Ministry of Industry, Trade and Enterprise Development, Kenya, explained that her country's goal to establish a vertically-integrated sector is limited by a lack of textiles mills. This means that while Kenya's textile and apparel exports are high, most exported products are made from imported fabric. The Cabinet Secretary explained her government's focus: to attract investment for more fabric manufacturing mills that use locally-grown and -produced fibre and yarn.
Development finance institutions have a role to play too. Ms Antje Steiner, Director, Regional Office East Africa, German Investment and Development Company (DGE), listed the key attributes of companies they target for financing: market experience, developmental targets and the potential for job creation.
Mr Pankaj Bedi, Chair, Apparel Export Sector, Kenya Association of Manufacturers (KAM), and Chairman, United Aryan (EPZ) Ltd, also advocated for vertical integration in Kenya. He pointed to (3) collaboration between different sectors and stakeholders, and between manufacturers and their clients: "Now is the time to work together. For example, supporting East Africa's cotton farmers for linkages to apparel".
(3) Increased connectivity is also a prerequisite for intra- and inter-regional trade: this means streamlined infrastructure and logistics. Governments again have a key role to play in this, whilst e-commerce and the African Continental Free Trade Area (AfCFTA) also serve to circumvent some of the traditional barriers. Mr Sam Chatappe, CEO, Jumia Kenya, mapped out how e-commerce can streamline transactions both within and between East African countries. Meanwhile, AfCFTA will interconnect the market of 54 countries and provide market access to one billion people.
AfCFTA also brings with it (4) domestic market opportunities: the fourth building block for integration. On the other side of the same coin, Ms Wandia Gichuru, CEO and Founder, Vivo Active Wear, spoke about the role of local designers and manufacturers, which she says have unique potential to build brands that connect to the domestic consumer. Correspondingly, Vivo is an e-commerce platform connecting local brands to the domestic market; it also provides a suite of services to enable and facilitate them.
India's efforts to produce Personal Protective Equipment (PPE) is another example of the opportunity that lies in the domestic market: Mr D. L. Sharma, Deputy Chairman, CITI , and Managing Director, Vardhman Yarn and Threads Limited, took the participants through how India has become the world's second largest manufacturer of PPEs in a period of only two months. He flagged standardization and certification as some of the biggest challenges, the solution to which lies in (5) strong and supportive institutions.
Beyond being a catalyst for integration, investment is the impetus for the overall growth of the sector. The panel demonstrated how foreign direct investment (FDI) does not just bring capital but also technical know-how and technology to the region. A number of the speakers emphasized the longevity of Indo-African partnership in this respect. Looking ahead, Mr Goshu Negash, President, Ethiopian Textile and Garment Manufacturers Association, said that Ethiopia was keen to cooperate with Indian machine manufacturers to promote the use of the state of the art technologies in every aspect of operations. In the same spirit, the Mr Zerihun Abebe Gizaw, Director, Textile and Leather, Ministry of Trade and Industry, Ethiopia, wrapped up the event with a direct invitation to investors from India and the world over: "Come to Ethiopia!", he said.
So what can East Africa do to attract and sustain investment from India and elsewhere? Boost the 'pros' and mitigate the 'cons':
(6) Low business costs is a fundamental for investors. Investors look at the whole package, which means there is not one quick-fix. The catch-22 is that investment is needed in the first place to fund improvements to infrastructure to lower the costs. Hon. Betty Maina, explained that export processing zones (EPZ) allow firms to import equipment and material and manufacture export goods without paying duty.
EPZs are also a signal of (7) government support and commitment. Mr Ashish Agrawal, Group CEO, Kanoria Africa Textile PLC, attested that his company chose to invest in Ethiopia specifically because they trusted the support from the Government. His company went on to set up the world's first fully-integrated eco-friendly textile manufacturing plant in Ethiopia. He also stressed the need for post-investment support to ensure investors are able to navigate operational obstacles.
In terms of 'boosting the pros', (8) Capacity building is at the heart of making East Africa a more attractive place for investors. This includes both developing a skilled workforce, and building institutional capacity. (9) Market access is another deal-breaker: most African countries enjoy preferential market access to European and North American markets. Some apparel items get a 40% reduction on tax compared to India. The panellists agreed that Free Trade Agreements (FTAs) create a predictable and attractive environment for investors.
Critically, and perhaps most pertinently, East Africa needs to (10) embrace sustainability. Since the outbreak of Covid-19, pressure on the sector has heightened the importance of sustainability for companies to be competitive. Sustainability is no longer optional and East Africa will be a more attractive place for investors if it can stand out from the rest of the world by being trailblazers.
3. The master key
The panel identified 10 ingredients for building a robust, integrated and sustainable sector. Across the board, they each need to be translated into country-specific solutions, a point well-made by Mr Pankaj Bedi, who emphasized the need to tailor solutions to the strengths and weaknesses of the region.
But there is one thing that does underpin all 10 ingredients: the need for public-private sector dialogue and partnership. This makes 'step one' clear and actionable across all 10 dimensions. Public-private cooperation is the 'master key' for securing the textile and apparel sector of the future.
Meet the Speakers
Opening remarks:
Mr. Ashish Shah, Director, Division of Country Programmes, International Trade Centre
Mr. Ajul Shah, Chair, Local Textiles and Apparel Sector, Kenya Association of Manufacturers and CEO, Kenya Shirts Manufacturers Co Ltd
Mr. S. Hari Shankar, Chairman, India ITME Society
Mr. T. Rajkumar, Chairman, Confederation of Indian Textile Industry
Panellists:
H.E. Betty Maina, Cabinet Secretary, Ministry of Industry, Trade and Enterprise Development, Kenya
Mr. Zerihun Abebe Gizaw, Textile and Leather Director, Ministry of Trade and Industry, Ethiopia
Mr. D. L. Sharma, Deputy Chairman, CITI and Managing Director, Vardhman Yarn & Threads Ltd.
Mr. Pankaj Bedi, Chair, Apparel Export Sector, KAM and Chairman United Aryan (EPZ) Ltd.
Ms. Wandia Gichuru, CEO and Founder, Vivo Active Wear
Mr. Goshu Negash, President, Ethiopian Textile and Garment Manufacturers Association and CEO, Vitccon Private Ltd. Co.
Mr Sam Chappatte, CEO , Jumia Kenya
Mr. Ashish Agrawal, Group CEO, Kanoria Africa Textile PLC
Mr. M. Sankar, President, Textile Machinery Division, Lakshmi Machine Works LTD
Ms. Antje Steiner, Director Regional Office East Africa, DEG – The German Investment and Development Company
Mr. Navdeep S.Sodhi, Partner, Gherzi Textil Organisation
Moderator: