SITA organized its first virtual sourcing event in July 2020 in partnership with Asia Pacific Leather Fair (APLF), Hong Kong.
Five tanneries from Kenya and Uganda were connected with 128 international buyers in an hour-long series of presentations. The tanneries will continue to showcase their products in APLF's online showroom for the next year.
The five tanneries are each at different stages of their journey toward achieving Leather Working Group (LWG) certification, thanks to SITA support.
In July 2020, SITA co-hosted its first ever virtual sourcing event in partnership with Asia Pacific Leather Fair (APLF), Hong Kong, which was attended by 128 international buyers. In the spirit of boosting the competitiveness of its East African beneficiaries, SITA organized for five SITA-supported tanneries from Kenya and Uganda to showcase their products in a concise and user-friendly event. Two of the tanneries have Leather Working Group (LWG) certificates. And the other three are well on their way to joining them soon.
The virtual sourcing event in a nutshell
In a normal year, APLF Hong Kong hosts one of the biggest trade events in the leather industry's calendar. Part of SITA's package of support to East African tanneries is to support their attendance at international trade fairs. Last year, SITA facilitated the attendance of six East African tanneries, all of whom had committed to achieving Leather Working Group (LWG) certification. This year, the fair has gone virtual in order to continue supporting the Leather and Fashion Industries through the Covid-19 crisis.
APLF's InTouch is a series of online sourcing events: suppliers present their products in a quick-fire series of presentations, with Q&A and live chat. They each are then set up with an online showroom and company profile, using APLF's well known platform, through which buyers can schedule one-to-one meetings.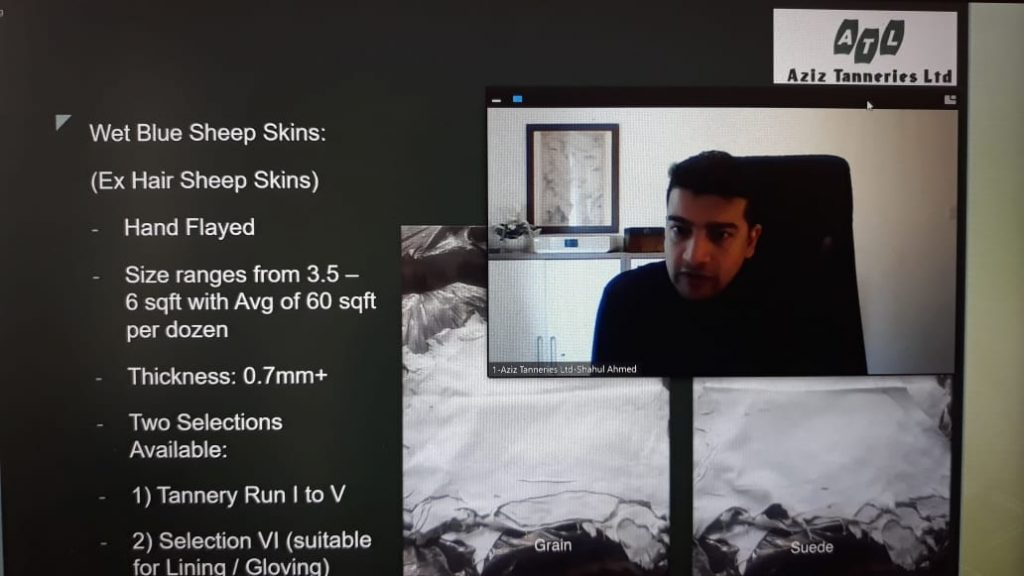 One tannery making their presentation
Meet the leather-makers!
All five participants are well-established tanners. Like most in the industry, they have faced difficulties as a result of Covid-19. They each gave an overview of their products, their company profiles, and their SITA-supported journey to LWG certification. Notably, they all advertized the quality of Kenyan and Ugandan leather and the strategic location of East Africa for its short transit times to: Italy, China, India, Pakistan, Turkey and USA.
Based on the outskirts of Nairobi, Aziz Tanneries produce bovine, goat and sheep leather of a variety of sizes and thicknesses suitable for shoe uppers, shoe lining and leather goods (bags, belts, etc). They do so at pace, processing around 400,000 sq ft of finished leather and 1,000,000 sq ft of Wetblue Hides per month.
Aziz Tanneries were represented by Mr Shahul Ahmed, Export Manager. He said of the webinar:
"Very useful opportunity to share what our tannery does to a global audience. We hope the exposure will lead to obtaining long term business contacts"
IPC Leather Industries have tanneries in Kenya (Leather Industries of Kenya), Uganda (Leather Industries of Uganda) and Tanzania (Moshi Leather Industries). Their tannery in Uganda is silver audited against LWG environmental standards. IPC focus mostly on bovine leather. The presenter highlighted their thirty-year-long history in the region with products compatible for footwear, leather goods and upholstery.
IPC Leather was represented by Mr Niaz Hirani, Managing Director and colleagues.
The third tannery to present was Mas Tannery, in Nariobi, Kenya. Mas representatives emphasized the quality of their products and delivery, specifying that this was thanks to: quality grades, quality raw materials, quality production chemicals, prompt delivery and their experienced technicians who oversee quality control. Mas produces 15,000 kg of hides and 10,000 pieces of skin per day.
Mas Tannery was represented by Mr Mohamed Abuker, Managing Director and Mr. Ahmed M Abuker, Operations Manager.
Nakuru Tanners source all their materials within a 150km radius of their tannery in Nakuru, Kenya and target shoes, leather products and upholstery manufacturers. Like all the East African suppliers, they typically sell different types of leather to different parts of the world: high grade leather to Italy and Turkey, lower grade to India and Pakistan, and crust leather locally.
Nakuru Tanners was represented by Mr Fahd Feisal, Managing Director.
Last but not least was Leatherland Limited – one of SITA's major 'good news stories'. Leatherland recently successfully achieved LWG Silver Rating. SITA supported them in the process toward certification preparation, carrying out in-person visits of the expert to identify areas of improvement, developing audit checklist, periodic review of improvements and providing other supporting materials for LWG compliance and assessment.
Based near Kampala, Leatherland Limited representatives explained the superior quality and unique characteristics of western Ugandan hides, and talked attendees through eight of their specific products and corresponding uses.
Leatherland were represented by Mr Abdul Hakiim Sekandi, Director and Mr Andrew Ejakait, General Manager. Mr. Sekandi remarked on the event:
"The virtual sourcing event… is a clear demonstration of ITC-SITA's marketing drive despite the prevailing coronavirus pandemic. Leatherland's participation has not only introduced the company to the global market, but has further strengthened the company's customer base for wet blue, skins and leather goods. Leatherland is grateful to ITC SITA for this opportunity and many thanks to APLF for hosting, coordinating and availing an online marketing platform."
Why LWG?
LWG audits certify leather manufacturers and tanneries according to their environmental compliance and performance capabilities. In doing so, LWG promotes sustainable business practices (1) by making it easier for buyers to choose sustainable suppliers, and (2) by setting out a clear to-do list for suppliers.
In today's world, sustainability is crucial for East African leather producers to be globally competitive. This is particularly true post-covid, given the high pressure that the industry is under.
LWG is also a milestone in quality product development. In the words of a Mr Abdul Hakiim Sekandi, Director, Leatherland: "increased market access, strengthening production capacity and improving environmental management."
SITA works to boost the competitiveness of East African tanneries by supporting them to achieve LWG certification.
What's more, the direct support to specific companies has a broader impact on the mindset of the leather sector at large: "ITC SITA involvement has changed the mindset of tanneries through Lean Methodology training, which has catapulted [their] urge to be LWG certified." A competitive and sustainable East African leather industry contributes to economic growth and therefore socio-economic development.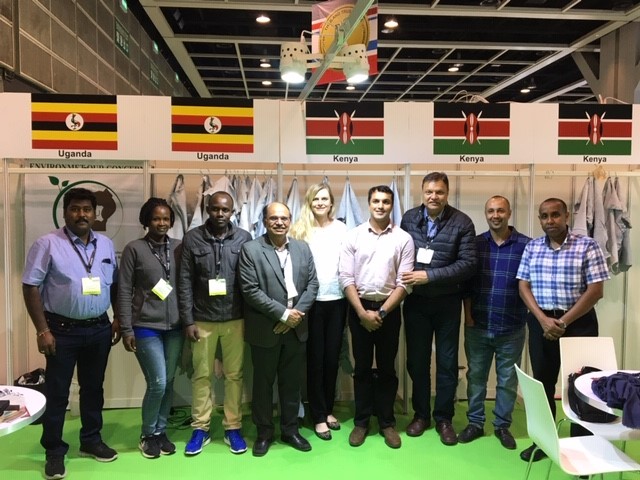 Meet the buyers
Manufacturers of a wide range of leather goods attended the sourcing event. Unconstrained by travel, the sourcing event was able to cater to the interests of buyers from all over the world including: Argentina, Algeria, Australia, Bangladesh, Brazil, Canada, Columbia, China, Côte d'Ivoire, Ecuador, Germany, Hong Kong, Italy, India, Indonesia, Kuwait, Japan, Korea, Mexico, Morocco, Netherlands, Nigeria, Pakistan, Philippines, South Africa, Spain, Sweden, Taiwan, Turkey, Uganda, United States of America, United Kingdom, Venezuela and Zimbabwe.
Buyers can browse the online showroom here.